TONY BERRY of AJBracing is proud to present an exciting, high impact marketing and advertising strategy to help reach your new customers today! You now have the opportunity to join this team for the 2006 season!




Tony will be driving the AJBracing Idaho
Army National Guard Late Model, as well as
the exciting Sprint car and Villelli Racing
WMRA Midget in 2006

2006 Race Schedule

Sat April 29
Sat May 13
Sat May 27
Sat June 10
Sat June 24
Sat July 8

Sat July 22
Fri Aug 4
Sun Aug 6
Sat Aug 26
Sat Sept 9
Sat Sept 23
You NOW have the opportunity to join this team of
experienced marketing professionals .
May through September. Primary and Associate Sponsor opportunities available, as well as providing tangible directed promotional activities on race day, your-site racecar displays and on-going effective timely
media communications programs.

Contact us today to begin building an exciting
package for your company in 2007. The Late Model
Stock Car, WMRA Midget and Sprint Car are
available now to help with your
customer impression opportunities.

Call Tony to join our team today!




ON TRACK:

*2006 INSSA Rookie if the Year
* 2006 INSSA LM Dash Winner
* 2006 Oregon Midget Winner
* 2005 INSCA Sprint Car "Rookie of the Year"
3rd in Points – Repeat Winner
* 2005 NSRA Sprint "Hard Charger" Award Winner
---

Put Motorsports Marketing and

to work for you!

"A Winning Combination"

Together we can create a custom package just
for you that can enhance/support your marketing
plan in 2006. Marketing experience shows that
typical motorsports fans are intensely
"brand loyal" and supportive of their favorite
local/national race teams. Let's capitalize on
that together!

Public Address Announcements Featuring Your Business
Message & Product Intro

Business Name / Logo on Race Team Equipment
Exposure Through Sports Apparel
Opportunities / Track Promotions
Race Car Displays, Driver & Personal Appearances at Public Speaking Engagement

877-858-1464

Cory Kruseman's Sprint Car School
Ventura, CA – Advanced Driving
Instruction, non-wing USAC Sprint Car
Click here for reference letter from Cory Kruseman

Competitive Edge Racing School
Spokane, Yakima and Tri-Cities, WA
won last 4 Late Model Main Events

Jim Hall Kart Racing School
Ventura, CA – Advanced kart driving school
fast time/Main Event winner
Quick Start Driving School
Sacramento, CA – Advanced kart driving school
---
Advertising Benefits
Opportunity to work with one of the most determined, effective, credible, enthusiastic and personable race teams in the Northwest Region.

Professional race team transporter, truck and trailer are available as a moving billboard for sponsor / manufacturer logo / advertising tools while on way to testing, training and racing, resulting in additional customer "impressions".

The team itself serves as a "spokesperson" and a product representative for your company.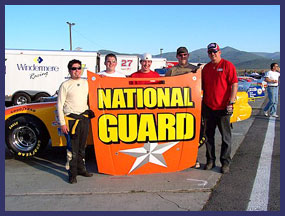 Race team has potential to positively impact the entire Northwest market area as well as the rest of the Region in supporting the sponsor's marketing plans and product demonstration in a professional manner.

Your company name identification in all media releases, press kits, stationary, radio spots, program book articles, magazines and web site features, etc.

AJB racing is committed to being a progressive marketing partner with you in racing in the Northwest to help dominate the market place with positive product exposure, merchandising and race results. All this in an effort to build an effective marketing / sales program to support your company's efforts.
General demographic information complied from various northwest area race tracks.
Fan support can be reinforced by appropriate use of track signage, programs., promotional activities
and fan/employee involvement

Age:
0-21------------5%
21-29----------28%
30-39----------31%
40-49----------23%
50+-------------11%

Gender :
Male--------------57%
Female------------43%

Occupation:
Professional----- 21%
Managerial -------9%
Skilled Labor---- 23%
Unskilled --------16%
Other ------------18%
Not Working ----8%

Education :
High School----------- 8%
High School Grad-----50%
Some College--------- 22%
College Graduate------16%
Post graduate----------- 3%

Sponsors Support
Influences Purchasing :
Yes-------------73%
No--------------10%
No Opinion-----10%


Vehicles Owned :
1 Vehicle-------- 29%
2 Vehicles------- 37%
3 Vehicles------- 18%
4 Vehicles --------8%
5 Vehicles-------- 6%

Miles Driven to Track :
1-10------------37%
11-20-----------22%
21-30-----------14%
31-40-----------11%

Income :
Under $15 k --------8%
$16-25 k ----------13%
$26-35 k ----------22%
$36-50 k ----------27%
$51-75 k ----------14%
$76 k + -------------7%