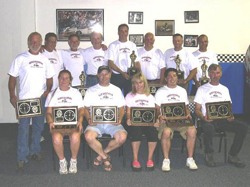 Standing from left to right
Rus Dyer 3rd place Unlimited/FKEIII, This man is at the track more than me - Bob Wilson Crew Chief for Todd Olson and Sid Swick - Dave Clift 7 time Duffy Winner great driver and wrench - Dave would like to make a special thanks to Mike Collins for loaning him a 80cc kart and motor to win his Duffy's - Roger Semro Owner Kart-O-Rama Inc. - Dave Lehmann Duffy winner, his nick name is Silk because he drives so smooth - Jack Lehmann engine builder for Kart-O-Rama and proud father of Dave Lehmann - Sid Swick Duffy winner, He was the class of the field in TAG Heavy - Aaron Stanford Duffy winner after only 16 years of racing.
Sitting from left to right
Martha Morse Two forth place finishes and is in charge of keeping Rus Dyer in line (standing next to her) - Todd Olson 2nd in Rotax Max and 5th in Tag. Todd makes it look easy, even when his kart has a starting problem - Kyle (Blondae) Driver 2nd in Super Stock and the winner of the Best Appearing Pit Award - Tony Berry 3rd in Rotax Max and 4th in Tag, not to bad for only having 2 laps in a Rotax Kart. True only 2 laps ever in a Rotax powered kart before racing. - Ken Driver 3rd in Super Stock, husband of Kyle (Blondae) Driver and the co-winner of the Best Appearing Pit award by marriage.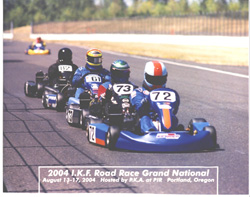 2004 I.K.F Road Race Grand National August 13-17, 2004