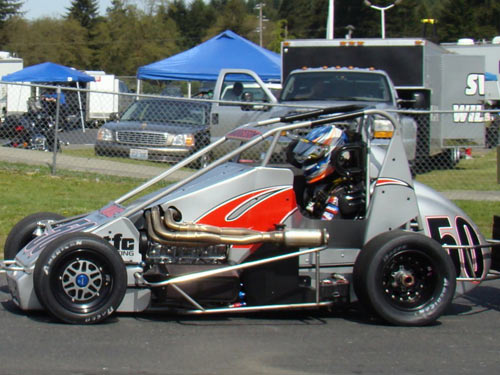 SPOKANE, Washington — Saturday night May 30th marks the first time that the Washington Midget Racing Association (WMRA) brings the history and heritage of this group to the ultra-fast half-mile oval at Spokane County Raceway in Airway Heights, WA.
While this is the first time that the WMRA will take to the SCR racing surface, many of the WMRA competitors have competed regularly at tracks of similar size such as Altamont Speedway or Irwindale Speedway both in California, which yield speeds pushing the 140 MPH mark making for some extremely exciting racing action. The WMRA fields a midget style racecar consisting of tubular framed, non-winged open wheel cars that must weigh at least 1080 pounds and feature injected four-cylinder motors running on methanol that can produce in excess of 375 horsepower.
Famous for close, wheel to wheel competition the 2009 WMRA season began much the way the 2008 season ended with Tacoma's Evan Margeson in victory lane at South Sound Speedway in Rochester, WA. Margeson, who drives for the famed Harold Beal Motorsports team is paired with long-time winning crew chief Tom Margeson who is also his father. "Growing up attending midget races with my dad, this was always our top goal, to be racing and winning in some of the most competitive open wheel series in the United States," commented Margeson. 2009 will feature the HBM #50 competing not only with the WMRA, but also USAC National pavement events and several forays onto dirt tracks. "We had our first dirt event last weekend at Cottage Grove Speedway and were able to pick up the win, 2009 is shaping up to be a banner year and we're very excited to see what these cars can do on the half-mile at Spokane County."
The 2008 WMRA Championship battle was a fierce one and was won for the first time in 63 years by a Rookie, seventeen year old Mark Atkinson. Atkinson, driving his father's Atkinson Lighting, North Coast Electric Company, Archer Construction #23 won three events en route to the head table at the Champion's banquet. "2008 was a great year for the team and me personally and we're looking to build on that success this year. We came home fourth in the season opener and we expect big things for the 2009 season for the team and our marketing partners," said Atkinson.
Some of the top midget racers and teams on the West coast are expected to make the trip this weekend. Favorites include Atkinson, Margeson, Pat Bliss, brother of NASCAR Nationwide Series competitor Mike Bliss, 2008 USAC National racer Ben Petter, past WMRA event winner Tony Seidelman and Californian John Sarale, young Mitch Hoffses, Kenny Burns, past karting champion Johnny Blair in the Dick Voss Racing #45 and others.
Come out and cheer on the 2009 Washington Midget Racing Association field at Spokane County Raceway this Saturday night, May 30th under the lights. Qualifying will begin at 5 pm.