Spokane, WA (9-25-07) - As the 2007 Inland Northwest Sprint Car Association (INSCA) season draws to a close, the Championship points battle is tight heading into the final race this Saturday night at Stateline Speedway in Post Falls, Idaho. 2005 INSCA Rookie of the Year, Tony Berry, holds a 22 point advantage over Spokane's Justin Popple who is competing in his first full season of pavement sprint car racing.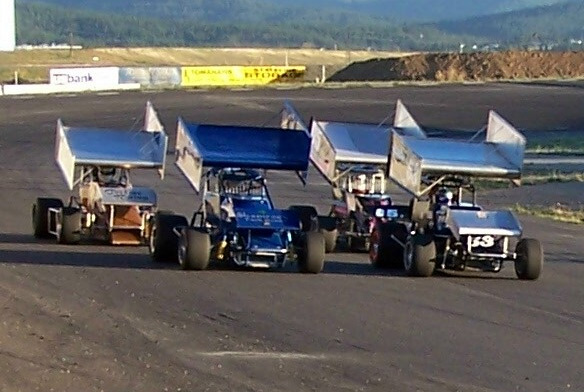 The 2007 INSCA season, brought to you by Mission Foods, has seen several different faces in victory lane, but the one seen most often has been sprint car legend, Rick Brown. Brown has been undefeated when he has traveled to INSCA events, winning at both Spokane Raceway Park and Stateline Speedway.
One driver that hasn't visited victory lane yet in the 2007 campaign is the current points leader, Berry. "Our year has been a model of consistency; that being said we show up each week to win. It'd be great to finish off the season for our sponsors, ACRAnet, Sign Service, CDA Gold Carts and Duncan Marine with a win this Saturday,"commented the 23 year old driver.
Justin Popple's season includes one trip to victory lane which happened earlier in the season at Stateline Speedway, the site of the last race of the year which is encouraging to Popple, "We really weren't at our best up at the half-mile (Spokane Raceway Park), but I am excited that we can head into the final race of the year with a shot at the championship at a track that I think we're figuring out more and more each time we visit.
"
Third place man in the points is also the leading Rookie of the Year contender, 16-year old Cole Tupling. The second generation driver improved his points position after a terrific second place finish to Rick Brown at the series' last event at Spokane Raceway Park. "SRP is a lot of a fun because of the high-speeds and it's kind of disappointing that the season is coming to an end right now because we're really starting to run well. For our first year of racing, our family race team couldn't be any happier with our performance."
Come cheer on the exciting action of the Inland Northwest Sprint Car Association one final time in 2007 this Saturday night under the lights at Stateline Speedway in Post Falls, Idaho. For more information visit the new-look www.insca.us or call INSCA President, Ron Turner, at 509.921.1307