May 16, 2006 (Spokane, WA) – Dan Garber and the Garber Racing team won their first event of 2006 this past weekend racing with the Inland Northwest Super Stock Association (INSSA) at the Stateline Speedway in Post Falls, Idaho.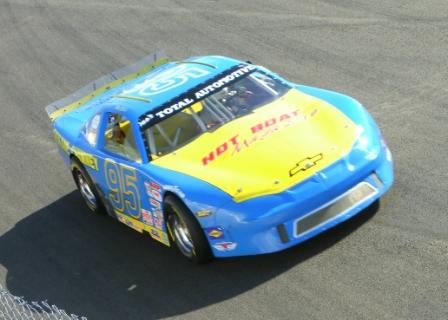 The evening got started on a high note when the #95 Hot Boat Magazine, Spokane Chimney, Drew Marine Racing Engines, Rich's Transmissions Chevrolet set fast time at a 13.51 second lap. "Qualifying is important every week and with points being awarded we have to be on top of our game all day," commented Garber.

In the heat race Garber came from the last starting position to finish third, garnering even more points towards the seasons end championship.

The familiar blue and yellow #95 started the main event from the tenth position and began to make progress forward in the 100-lap event. Maneuvering through traffic and staying out of trouble Garber took the lead on lap 63 and never looked back en route to his fourth INSSA victory in the series' third year of existence. "I am glad that we were able to get our sponsors into victory lane this early in the season. Last year we made them wait a little longer and I hope this is indicative of things to come," said Garber after the win. "These tires are a little different than the ones that we had last year, but we're starting to figure them out. We're positioned to have a great year."

The next race for the Garber Racing #95 will be with the INSSA series on May 27th. For more information on Dan Garber or the Garber Racing team contact AJB Motorsports Marketing @ 800.336.2682.