Source: INSCA Media Relations Photo by RB_Images.net
Spokane, WA (June 10, 2009) – Race number three for the 2009 Inland Northwest Sprint Car Association (INSCA) will be a return trip to Spokane County Raceway in Airway Heights, WA this Saturday night, June 13th.
Expected entrants for this weekend's race are the famed Red Perkin's owned gold machines of the 65 with 2006 and 2008 INSCA Champion Kevin Burck driving and the 65-1 with Ephrata racer, Donnie Kudrna behind the wheel. "We haven't gotten off to the start this year that we are used to, but we've got the best guys in the business. We will get these new cars figured out quickly," commented the long time car owner.
Also on the entry list is current INSCA President and long time open wheel racer, Justin Popple in the ACI Coatings, Lube Tube, Spokane Pump #19 machine. "We've had the speed at both events, but have been plagued with driveline issues," said Popple. "We were able to run a couple of laps last weekend out there and I think we've got our gremlins fixed. Hopefully we can turn our luck around this weekend."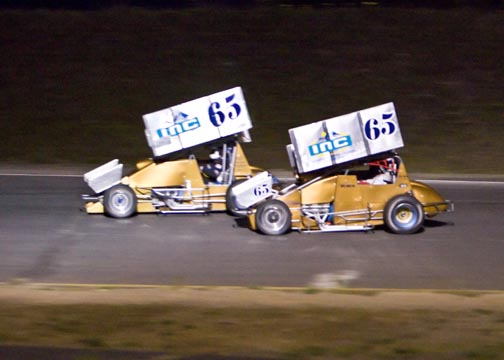 The INSCA cars qualified in the 16 second bracket around the ultra-fast half mile oval reaching speeds in excess of 140 MPH. "The winged sprint cars are quickly becoming a fan favorite at SCR and we can't wait for this weekend's event along with the several other trips they'll be making to our facility yet this year," stated SCR Oval Manager, Larry Bertrand.
The INSCA group is fortunate to have veteran motor builder and sprint car enthusiast Ed Nereaux from Nereaux Racing Engines assume the role of Technical and Race Director duties at the racetrack. "The INSCA group has many things going for it and I wanted to do my part in helping the series. They have a common sense motor rules package so that people can build a competitive entry at a reasonable cost. I see many positive things coming for this series and I am glad to be a part of it," commented Mr. Nereaux.
Video from the two previous rounds of the INSCA season can be seen at the website www.kodiakwebracing.com. Here you can view both in car footage and shots seen from the grandstand at two of the Northwest's premier racing facilities, Spokane County Raceway and Stateline Speedway.
Come out to the track this Saturday night to cheer on the winged sprint cars of the INSCA at Spokane County Raceway. Qualifying will begin at 6 pm with racing at 7 pm.
For more information on the Inland Northwest Sprint Car Association please visit www.INSCA.us or call either 800.336.2682 or 509.499.9582